---
Pro keys to go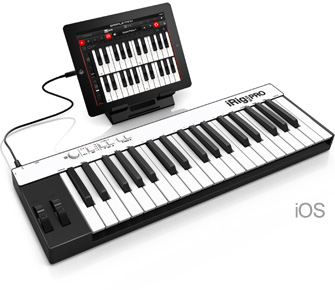 iRig Keys PRO gives you the best of both worlds. It's a super-compact, bus-powered, "plug and play" MIDI controller that you can use anytime and anywhere. Yet despite it's small footprint, if offers full-size, velocity-sensitive keys, allowing for a realistic playing feel.
With its 37-key (3-octave) keyboard, you can play legitimate two-handed parts. What's more, it has loads of pro performance features that will make your creativity come alive.
Use it and its included software to plug in and jam with your iOS or Android device or Mac/PC.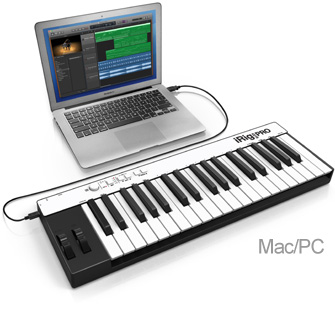 iRig Keys PRO is equally useful as a portable MIDI keyboard or studio controller, and a perfect solution if you want a single keyboard to use in both situations. Connect it to your Mac or PC for use with your DAW and computer-based software instruments, and easily carry it around with you to use whenever and wherever you want with your iPhone, iPad, iPod touch or Android device.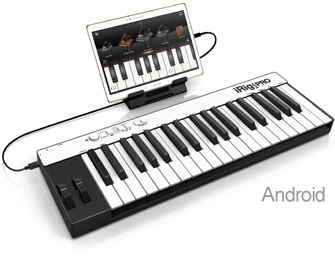 An ultra compact controller with full-size keys and pro features
For maximum playing comfort and versatility, iRig Keys PRO includes modulation and pitch-bend wheels. It's also equipped with an expansion jack, allowing you to connect a sustain pedal for an even more realistic piano playing experience, or an expression pedal for controlling continuous parameters like volume, tremolo, vibrato, rotary speaker speed and more (pedals not included).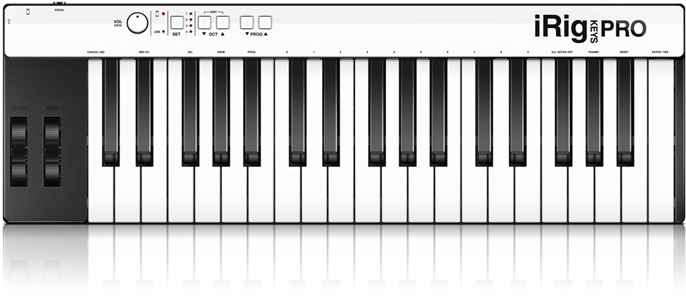 iRig Keys PRO features an easy-to-use control panel that gives you 5 backlit soft-touch buttons and one Volume/Data knob. You will find Program and Octave up/down buttons plus a Set button that allows you to store up to 4 different setups for the complete iRig Keys PRO configuration. An Edit mode is also available to transpose the keyboard, send specific program change messages, customize touch sensitivity, change MIDI channel, reassign Vol/Data knob MIDI control change and access to other useful MIDI functions in a flash.
All these parameters can be stored in Sets using the Set button and recalled in a snap, to allow for quick sound switching and easy control of various instruments or apps on the fly.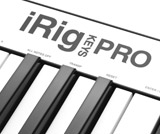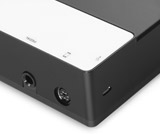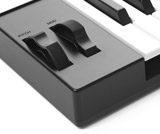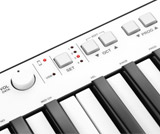 Size matters
When it comes to portability, iRig Keys PRO is the leader in its class. Compared to 11 of its closest competitors — all compact MIDI controllers with full-size keys playable with 2 hands — iRig Keys PRO is the smallest in width and height, and among the smallest in depth. It gives you an unbeatable combination of compactness, convenience, and pro features.
iRig Keys PRO is the most compact full-sized-key MIDI controller on the market - up to 30% smaller than other full size MIDI keyboard controllers.
Weight matters
In addition to being the smallest in its class, iRig Keys PRO is also the lightest. In fact, it's 20% lighter than it's lightest competitor, and almost 45% lighter than the average weight of its 11 closest competitors.
So not only is iRig Keys PRO significantly smaller than any other keyboard of its type, it's also a whole lot lighter. When it comes to portability, there's no comparison. iRig Keys PRO is the hands-down winner.
iRig Keys PRO is small and light enough to take with you almost anywhere. Because it's bus powered — meaning it gets its power from the device it's plugged into (iOS, Android, Mac or PC) — you don't have to limit your music making to places where you have access AC power. Jam, produce or practice at the beach or in the woods, out in a field or at the bus stop — anywhere, really. And when you're somewhere where there is AC power, you have the option of powering iRig Keys PRO through it's USB port.
Connect and go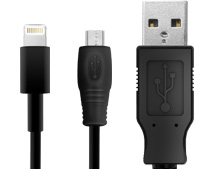 When we say iRig Keys PRO is "plug and play," we're not kidding around. Because it comes with both Lightning and OTG to Micro-USB cables, you can plug it in right out of the box, no matter whether you have an iPhone, iPad or Android device. The included USB cable lets you connect to your laptop or desktop Mac or PC. And if you want to connect to an older iOS device, all you have to do is pick up an optional 30-pin cable.
What's more, iRig Keys PRO is Core MIDI compatible, so you don't need to download drivers or any helper software or apps, just plug in and go. It couldn't be easier.
Free OTG to Micro-USB cable
If you purchased an iRig Keys with Lightning or an iRig Keys PRO starting October 1, 2015, you are eligible to receive a free OTG to Micro-USB cable, if one is not included. Contact IK Support to request your free cable. Make sure to register the iRig Keys with Lightning or iRig Keys PRO and provide proof of purchase. Please allow 4-6 weeks for processing and shipment. Also, all requests must be made within 60 days of purchase.
---
Features
37 velocity-sensitive full-sized keys (a 3 full octaves range plus one note)
Modulation and pitch bend wheels
Volume/Data knob (assignable)
Octave/Program Up/Down back-lit, soft-touch buttons
SET button to store and recall 4 different customized setups
Input for an optional sustain or expression pedal
Core MIDI (iOS) and USB class compliant (Mac/PC) - plug and play
Powered from the iOS device or Mac/PC USB
Works with Android devices via included OTG to Micro-USB cable
Comes with SampleTank FREE iOS and iGrand Piano FREE apps (download from the App store)
Comes with iGrand Piano FREE and iLectric Piano FREE for Android (download from Google Play or Samsung Galaxy Apps)
Comes with free Mac/PC software: SampleTank 3 SE (download from IK User Area)
Comes with free Mac/PC virtual instrument collections for SampleTank 3: The Grid plus 5 collections from Beats and Elektronika series (choose and download from IK User Area), plus 25 free Gear Credits to use in the Custom Shop
Includes Lightning, OTG to Micro-USB and USB cables (optional 30-pin cable can be used for older iOS devices)
---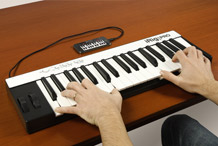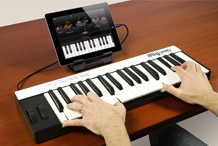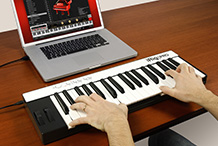 Plug and play out of the box
iRig Keys PRO comes complete with free pro-quality virtual instrument apps and software that can be immediately downloaded and played, for a true plug-and-play experience out the box.
For iPhone, iPod touch and iPad, iRig Keys PRO comes with: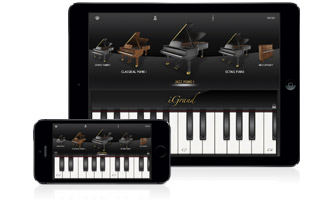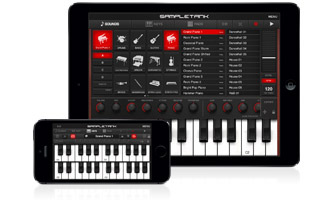 For Mac/PC iRig Keys PRO comes with: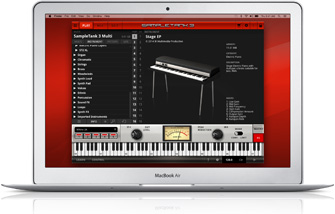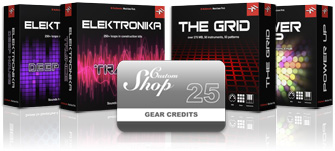 For Android devices iRig Keys PRO comes with: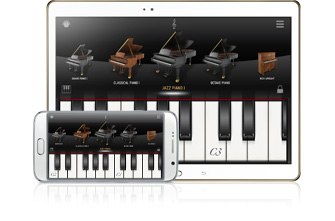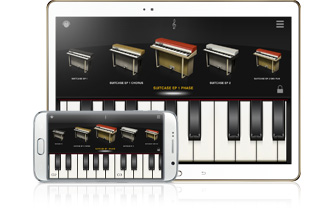 ---
Share this Product
---
More from this collection